kalau korang nampak roti hitam macam arang, teringin tak nak rasa?.. jangan main2 oi.. soalan killer ni.. tak pernah tengok? macam ni haa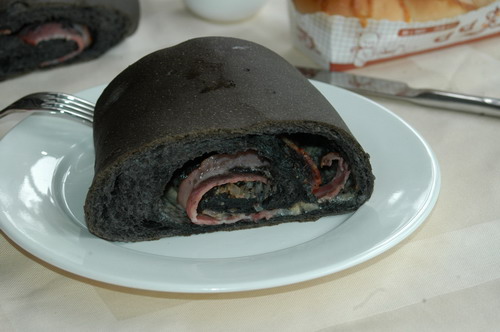 pics from google image
nampak yummy kan.. haha.. ada la satu kedai roti kat one utama ni.. banyak tau roti hitam ni dia jual.. macam2 jenis
*tiga je padahal*
.. ada yang memang sebijik macam arang dah.. tapi ada la yang macam donut and macam roti sandwich biasa.. first time tengok dah tau ni mesti penuh dengan kebaikan.. ewah ko.. ye la.. tengok je la rupa ni haa.. nampak macam ubat pun ye.. makanan organik pun ye.. yang membe2 aku ni.. tengok2 je terus cakap
"eee tak teringin lansung roti ni"
..
"pelik gila kaler hitam legam, ada ke orang yang nak makan"
.. well jawapannya, ada.. and akulah orangnya..
this is how the bamboo charcoal sandwich bread look like.. maybe akan jadi roti ruji aku dipagi hari.. hehe
yang ni memang sebijik mcm arang kan.. bamboo charcoal mochi.. rupanya memang agak err.. but somehow.. aku teringin gak nak rase.. yes aku pelik, i know..
masa first time aku tengok roti2 ni.. keinginan untuk rasa membuak2.. lagi2 bila roti tu agak selling fast.. sebab selalu tinggal sikit and kadang2 sold out.. so akhirnya, setelah banyak kali tengok and berkeinginan, berjaya jugak aku beli..
presentingggggggggggg......
bamboo charcoal doughnut!
rasanya? sama je macam roti biasa.. maybe tawar sikit but tak pelik pun rasa dia..seriously.. and bagi aku.. sedap je.. and member yang konon tak teringin masa first time tengok tu pun cakap sedap je.. huhu.. fuh! puas hati.. memang boleh beli lagi lepas ni.. lagi2 bila baca kebaikan dia.. nak tau apa?
high mineral content such as calcium, potassium, sodium and iron

generates negative ions that will put people in a better frame of mind

Promote metabolism and blood circulation

making your skin smooth.

source of carbohydrate, vegetable fat, protein and vitamin B, which improves blood circulation.

absorbs bad odor and toxic substances, and emit negative ion.
see.. memang lepas ni roti itam ni la jadi pilihan hati.. and korang pun? silalah cuba.. seriously takde beza pun dengan roti biasa.. hehe~